Welcome to Born 3 Eggs



Now in pulp/paper carton packaging.


Born 3 ingenuity comes up big, once again, in developing foods that are nutritious, healthy and natural. "Our goal at Born 3 is to continually apply our thinking to developing food products that meet the needs of today's savvy and demanding consumers" says Frank Born, President and founder of Born 3 Marketing Corp

"The Born 3 – Vitamin D egg is an easy and tasty way to get essential nutrients on a daily basis. We are spending less time exposed to the sun, whether it is being indoors more, gloomy weather or under the cover of sunscreens and clothing. We need to replace the Vitamin D that we normally get from the sun."

The addition of Vitamin D to the Omega 3, the high quality protein and the nutrients already found in the Born 3 eggs, make them a highly nutritious food product. Vitamin D is known to be an essential element necessary for...
Born 3 products are a source of Omega 3 and Vitamin E
The

Born 3 Eggs

are the result of extensive research partially funded by the National Research Council of Canada and the Science Council of B.C. aimed at modifying the fat in the egg yolk.

Through an advanced formulation which removes all of the beef tallow (fat) and meat by-products, we have been able to develop an all vegetarian chicken feed. This premium vegetarian diet, contains a unique combination of ingredients such as

flax seed, wheat, corn and soybean meal

which together modify the fat in the yolk of the Born 3 egg.

Read more...

We at Born 3 Marketing Corp. have developed this new product that is sold along side the Born 3 Egg because it has come to our attention that some of you prefer Brown Eggs. This therefore is the story behind the development of the Canadian Harvest Brown Egg.

The Canadian Harvest Brown Egg is the result of research into the feed that the chickens eat. Our research has shown that people are concerned about what goes into the food that they eat. Buying a cheap product does not necessarily mean that they are getting a good product.

Read more...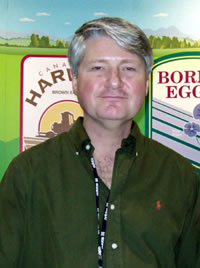 Thank you for visiting our website. For more information or comments, please write to me using either of the methods below.
Sincerely,
Frank Born
Founder & President of Born 3 Marketing Corp.
Write to:
Born 3 Marketing Corp
P.O. Box 8000 - 343
Abbotsford, B.C.  Canada V2S 6H1
Fax: (604) 607 7333
Email: info@born3.com